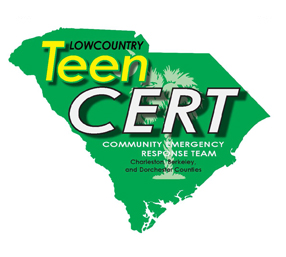 Teen CERT
We are the FIRST TEEN CERT EXPLORER POST and FIRST TEEN CERT EXPLORER CLUB in the United States
Started in August 2013, Lowcountry Teen CERT Explorer Club 9112 for Middle School was formed. (6th, 7th, and 8th Graders may join).
Use contact information below to find out more about the NEW EXPLORER CLUB!
Explorer Post# 911
The Lowcountry Teen CERT Explorer Post is looking for young adults 14-20 years old. We meet normally at Charleston Volunteer Rescue Squad (2521 Rescue Rd. North Charleston SC 29405) on every 2nd and 4th Sunday from 2 to 4 pm.
Teen CERT Explorer is a year round program that educates young adults about emergency preparedness and trains them in basic disaster response skills, such as fire safety, light search and rescue, team organization, and disaster medical operations. Our goal is to prepare them for life's personal emergencies as well as careers in Emergency Service!
A program of Learning for Life, The explorer program provides a unique career exploration program for young men and women ages 14-20. Exploring offers learning combined with fun-filled hands-on activities that promote the growth and development of adolescent youth.
Student Benefits:
Character Development
Build self-confidence
Leadership development
Social development
Unique career experiences, networking & internships
Volunteer community service
Our mission is to coordinate with the youth from Berkeley, Charleston, and Dorchester Counties to train, educate, and inform them about emergency preparedness and help form a well-rounded young adult.
For More Information Contact:
Harry Sosa: 843-813-3922
Sosah@charleston-sc.gov
OR
Valarie White: 843-478-3774
Skyhigh304@aol.com
Applications
Teen CERT Galleries
The explorers were involved as victims and drivers in the video as well as camera operators in the behind the scenes. The post even helped out in having a hospitality tent for all the participants. Please check all the videos out on their Facebook Page " on your respective social media sites. Thank you so much.
Today is the first day of Teen CERT Explorer Post's Summer camp and visit to the Edisto Serpentarium
TCERT Explorer Post 911 Working the Medical , Lost Child Tent at Wonderfest Kids Run
TCERT Explorers Post 911 assists Agencies for Prom Promise Video
Behind the scenes on the video for Prom Promise and TCERT Explorer Post 911 Role Players
TCERT Explorer Posts 911 contribution to the Prom Promise Video
Set up the scene at the Prom Promise video involving TCERT Explorer Post 911
Haley from TCERT Explorer Post 911 at the makeup tent for Prom Promise video
Channel 2 News reports on a Prom Promise video the explorers were in
---
TCERT Explorer Post 911 is getting hands on training in "Fundamental in Fire Fighting Training"
TCERT CERT Explorer Club learning about AED
TCERT Explorer Club 9112 at West Ashley Middle School meeting with Lead EMS advisor Patrick Wells
TCERT CERT Explorer Post 911 with the CPD Crimeprevention Unit at the 26th Annual Kids Fair in Charleston SC
Teen CERT Explorer Post 911 doing thier CPR training 2014
TCERT Explorer Post 911 and Crime Prevention Unit at the North Charleston Convention Center for the Lowcountry Family Expo
Staying Alive til the Medics Arrive 2014
Teen CERT Explorer Post 911 attending a tour and training at the Charleston County Emergency Operating Center and 9-1-1 Consolidated Dispatch Center
Medal of Honor Bowl (Jan 11th, 2014)
A moment in history Teen CERT Explorer Post 911 volunteering at the medal of honor bowl 2014
Snake Class "Venom Response by Patrick Phillips" (March 6, 2013)
Teen CERT Training (September 2012)