Ready Lowcountry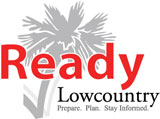 As CERT Members we are taught preparing for and responding to disaster begins with preparing yourself and your family, but when a large disaster strikes and first responders are overwhelmed, the first people you will turn to for help will be your neighbors. Building good relationships with your neighbors is the best way to extend your personal safety net.
Preparedness is everyone's responsibility. We all need to work together!
We don't know what type or when disasters and emergencies may strike, but there are simple preparedness steps you can take that are common to all disasters.
You plan only once, and are able to apply your plan to all types of hazards.
Make a family emergency plan
Put together an emergency supply kit
Be prepared to help your neighbor
Work as a team to keep everyone safe
Ready Lowcountry is a partnership with the National Ready campaign to provide local information to help prepare your family, neighborhood and community for all types of emergencies and disasters. Having a plan and the tools in place to make it on your own for a period of time can be crucial!
Please share this checklist to help you and your neighbors prepare.
Ready Lowcountry Preparedness Check List
Ready Lowcountry partners will continue to organize events and training throughout the year.
Visit our Upcoming Events to learn more.